It sounds like an internet hoax but just like reading the Inquirer odds are they're going to report a real story once in a while. This is a cool story that adds to the awesomeness of David Bowie and Elvis Presley.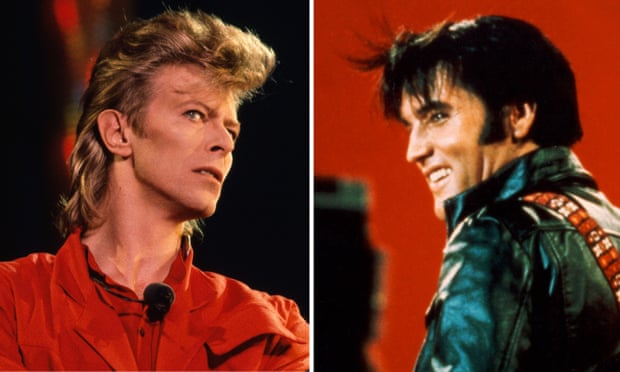 photo from theguardian.com
These two giants of song shared a birthday but they also knew someday their physical form wouldn't last as long as their legacy. In a finding that may have started, or at least been passed through Moby, there is another connection and it is a Blackstar.
Elvis Presley lyrics
Every man has a black star
A black star over his shoulder
And when a man sees his black star
He knows his time, his time has come
Black star don't shine on me, black star
Black star keep behind me, black star
There's a lot of livin' I gotta do
Give me time to make a few dreams come true, black star

Elvis recorded a song found above that was originally called "Black star" the lyrics are haunting as it describes a man who knows his time has come.  The Elvis song was eventually changed and released as a song called "Flaming Star" to go with his 1960 western movie of the same name starring Barbara Eden.
David Bowie released the awesome album Blackstar before his death earlier this year.  The album continues to intrigue and surprise us.   Newly revealed is the fact that the Blackstar logo on the vinyl album cover, when exposed to sunlight, opens up a new galaxy of stars as seen below.
Shine on Mr. Bowie.  We love and miss you.